Keith County News hit the nail on the head with this statement: "John Gallegos has come pretty close to having done it all."
John is a wildly talented body painter, muralist, tattoo artist, props and prototype fabricator, AND the art director for 1905 Film Studios. If his mastery of various arts and list of skills aren't enough to impress you, John has used his skills to create a resume many artists could only dream of; never letting go of humility and kindness as he continues to leave his permanent and distinctive mark on the world of art and entertainment.
Here are just a few of the places you have seen John's work:
Skin City (Las Vegas)
Travel Channel
Spike TV's Bar Rescue
… and various documentaries!
The John Gallegos Interview
Hey! Tell us a bit about John Gallegos. 
I was born in Southern California and moved to Nebraska at the age of 12. I grew up in a small town called Ogallala with a population of (maybe) 5,000. Growing up there taught me the meaning of hard work and a strong work ethic. However, I did get to visit my father and family in California throughout the years. That's when I noticed the difference between city life and rural life, which was a huge difference in lifestyle.
What do you love most about the process of creating? Is it when you're first inspired to create something or when you see the completed project?
Definitely when I first get inspired! I first work it out in my mind. Once I problem solve it there, I put it to paper or on the computer.
As you were being discovered as an artist, you were airbrushing T-shirts on Fremont Street as a side job in Las Vegas. How would you say the culture of Fremont influenced your work as opposed to being on the Strip?
Well, I did paint on the strip for a time.  But the difference would be that more families came by Fremont St. Not to mention the crowd of people that watched me paint was larger. There was an element of entertaining there that wasn't on the strip.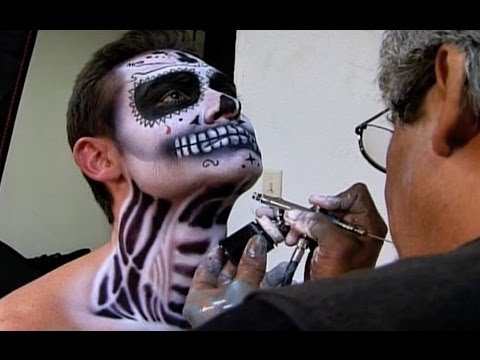 How has your time spent in the army been of benefit to you as an artist?
When I joined the army after high school, I had given up on art as a career. But after running the Art Department, I saw art as more than just drawing and painting. I was introduced to the aspect of production art deadlines and being creative even when you didn't feel creative.
You create art in so many forms, from body paint to model building and films. If you had to choose your favorite type of art to create, which would it be?
My favorite would have to be working in film. It's the grand illusion of it all – watching my models fly through space. or spelling out the title of a film in fire.
Working backstage at such large productions has to be chaotic! Tell us about one of your favorite events.
The craziest night was when the team of Skin City Body Paint formed a gauntlet, if you will, as we had all of 5 minutes to turn each cast member into a zombie for their final bow. Being ambidextrous came in handy that night because I had to airbrush with two airbrushes simultaneously. I still can't believe I painted at Ceasar's Palace!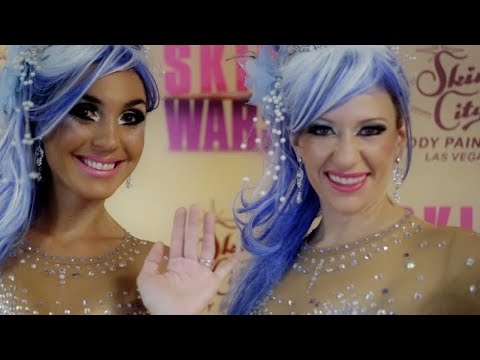 Visit John Gallegos at his website to see more of his work.