"When words leave off, music begins."
Heinrich Heine made this statement many years ago, but it continues to resonate worldwide. And it's musicians like Kelvin Wetherell who embody the movement of thoughtful music, blending it with rhythm and purpose. From talks of Sam Cooke to Sherlock Holmes, Kelvin is a spirited, intriguing personality and a damn good musician based in Toronto, Canada.
The Kelvin Wetherell Interview
Hi, Kelvin! Can you tell us a bit more about yourself? Maybe share some interesting facts?
I'd rather anyone interested in finding out more about who I am come to the gig and hang in real time. See if we're down with one another. Keep the connection going!
I had to defer to my wife for interesting facts about me. She says I "can mysteriously place my hands on any instrument and make it sing, have an impressive knowledge of the English language, speak often in colloquialisms and Old English." And I juggle. And swear a lot.
"At my live shows, fans can expect raw, soulful singin', deep grooves/ lyrics, heavy drum & vocal loops, fuzzy guitars, acoustic guitars, psychedelic sounds, top shelf compositions and a ton of love and passion. All from one guy! That and an amazing sense of community and family. Come see for yourself on January 29th at The Rivoli in Toronto."
I can definitely feel your emphasis on community and togetherness in The Lay It Down Project. It also made me think about how we all protect the secrets that make us vulnerable, but there's so much beauty in the release. What was the most valuable lesson you learned from this project?
The project reinforced a lesson I had already learned: The ability to allow oneself to be vulnerable is a great strength and the ability to share it with others an even greater one. Hard to do in this global society where our worth is measured by income, asset, profession and other nonsense like the number of likes we get on facebook. "BE POPULAR, PERFECT, RICH AND FAMOUS OR YOU'RE A WORTHLESS TURD!" is the vibe we're constantly berated with. How about "Be kind to yourself and others and nevermind the bollocks."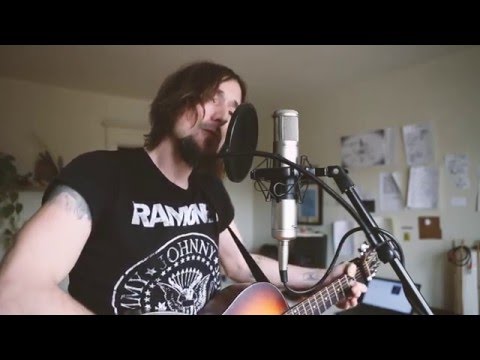 I loved that Lay It Down was recorded at your home studio. I've always felt that home studio sessions have such an authentic feel. Maybe because you get a feel of who the artist really is as they invite you into their personal space? What are your thoughts on this?
I agree. It's very intimate and authentic. But it's limiting. I'm going to produce more videos here in the studio, keeping them simple and stark. Very personal. Then I'm interested in finding different spaces to complement the different moods of the songs. In fact, I'll be shooting two live videos soon, which will be on location, with a larger production scale.
Any inspirational fan stories to share from the project?
All of them. Each written cutaway shot that appears in the video was culled from people's anonymous submissions. That one would take the time buying lunch or coffee to lay bare and leave in my hands such a huge part of their experience is a great inspiration. Deep change is not easy work to undertake.
In your personal opinion, what is it about Toronto and Nashville that attracts so many musicians and artists?
I think Toronto is a magnet in Canada because of its diversity and culture. There's so much to do. I know a filmmaker from Scotland who came here because of TIFF and the Hollywood North aspect. The AGO. The ROM. All the great music venues, which, sadly, are being hit hard these days.
When I was recording in Nashville, the history and talent were deep. There's that attraction, but there's another: Most of the guys/gals I worked with were previously based in Los Angeles and had made the exodus to Tennessee because the gridlock in LA was so bad!
You mentioned "organized chaos" in your bio, and you definitely wear many hats. Would you say that your lifestyle is a form of organized chaos that enhances your creative ability?
We all live in some form of chaos at one time or another. My creative ability is enhanced by listening. It's the most powerful skill we possess, not just as creators, but as human beings.
I know you like listening to Sam Cooke. He's an inspiration of mine as well. Most people immediately cite 'A Change is Gonna Come' when mentioning his name. What would be another song of his that deeply resonated with you?
I must say that I'm one of those people. I do an acapella cover of 'Change' in my live set. It was the last song Sam wrote before he was shot. When he was playing it on his acoustic guitar for different friends at different times, many of them told him that the song reminded them of death. Clearly, that's not what the lyric is about, but people were feeling something else happening under the surface.
That aside, it's very hard to choose another. To avoid writing my thesis on Sam Cooke in our interview, let's go with Let The Good Times Roll. "It might be one o'clock and it might be three/Time don't mean that much to me/I ain't felt this good since I don't know when/And I might not feel this good again." Damn. Sounds like freedom.
Knowing you're also deeply inspired by Sherlock Holmes, what qualities do you admire most about his character?
The thing I admire most about his character is his ability to shift his focus and be totally present in whatever he's doing. Innumerable times over the course of their years together, he and Watson would reach a point in a case where there was a delay in its progression. They'd immerse themselves in some other activity, like the opera, and Holmes would be wholly in the moment, while Watson sat there, twitching with anxiety over the case. I'm a little like the good doctor in that regard, except when I'm making music, in which case I'm Sherlockian all the way.
Learn more about Kelvin and stay updated on his music and upcoming shows at his website.