Melanie Anne's voice is one that can easily get stuck in your head. As she pursues her dreams of being a musician, she carries a charm and energy that she uses to help inspire others. Read on and hit that play button. She deserves a listen or two – or three.
The Melanie Anne Interview
Tell me more about Melanie, please. Along with singing, what are all of the instruments you can play? Are you a self-taught performer or where you taught professionally?
I am 23-years-old and a native to Albuquerque, New Mexico. I first became interested in music when I was 7, banging on my grandma's piano. The first song I was ever taught to play was 'Chopsticks.' I took piano lessons from my grandmother for about 7 years until she passed away. After that, I kind of left the piano by the wayside only to pick up a guitar after my sister tried playing and decided that it wasn't for her. I fell in love with it. I would practice for hours every day and it wasn't too long before I started writing my own songs.
I soon joined my church's worship team and that was the real kick start into the world of music for me. Being on that team, I learned how to play electric guitar, bass guitar, and drums (that one is a little more questionable than the rest!). I picked up piano again all under the amazing leadership on a worship pastor on staff there.
Fast forward to the present and I've decided to take my music career even further by trying my hand at writing, recording, and releasing music and albums. My first album is currently under way and will be released in the spring of 2016. (More details to come soon.)
I'm mostly self-taught but have had some amazing people in my life show me things and teach me how to listen to music and build songs.
I would love to know the details regarding the music equipment that you use in your videos.
I currently use a RODE NT1A microphone for recording as well as the ZOOM H4N portable recorder as my interface. My guitar is a Fender CD60CE-SB, and my piano is a Yamaha P 155.
I also use my Nikon D7000 to record video and I use Logic Pro X to do all of my sound recording and editing.
What is it about a song that makes you decide to cover it?
As deep as I'd like to make this question, the simple answer is that I just cover music that I like to listen to. 🙂
I cover the songs that I would play in my car.
You have a unique style and listening to you sing took me back to a happier time in music, like the days of Michelle Branch and Vanessa Carlton. Would you happen to be a fan of either of them?
I actually haven't heard either of them to be honest. I'll have to check them out!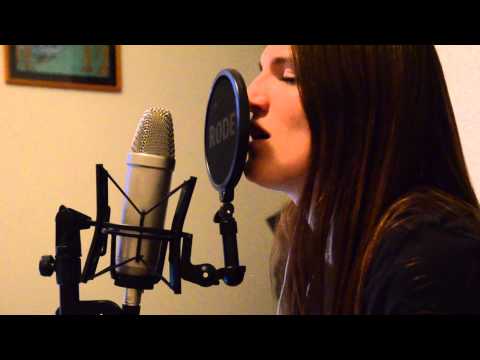 Who are some of your favorite musicians and also some of your biggest inspirations outside of music?
Some of my all-time favorite musicians are: Taylor Swift (I love her style and also her outlook on life). I love Maroon 5 (their music style is incredible). I'm also a huge fan of Safety Suit, Panic at the Disco, Boyce Avenue, Pentatonix, Fall Out Boy, Paramore, and you can't forget Michael Jackson!
Some of my biggest inspirations outside of music are some of the key voices of our generation like Dave Ramsey, Seth Godin, Simon Sinek etc. I love to read a lot of books and the authors have played a huge role in who I have become.
Also, all the people in my life who have encouraged me to become better. (My family, friends and church leaders/pastors).
I saw that you recently were involved in a songwriter's showcase. How was that?
It was truly amazing and I got to meet some great people that I'm very excited to work with in the future. It was also really awesome to get to see some of the other talents in my city.
I read your blog posts and found them really insightful. You are very dedicated and motivated. What do you think instilled that sort of drive in you?
There are many things that played a role in this.
First of all, I truly credit a huge part of it to my faith in God. The Bible has so much insight into becoming the best person that you can possibly be. I love sharing that with those around me, even if they don't believe the same things that I do.
I also grew up in a large family where, from a young age, I learned what it meant to be independent and to be self-motivated. My parents never forced me to do the things I wanted to pursue. If I actually wanted them, I had to put the work in and make them happen. Through that, I learned that success is hinged on your willingness to work. No one owes you anything and no one is required to push/drag you along. If you work you, get the things you want. If you don't then well… you don't.
I thank my parents for that.
Can you give more details into the #RightNowResolution?
The whole concept is all about the idea of starting right now. Because the honest truth is that if you don't start right now where you're at then you probably won't start at all.
Motivation follows action, not the other way around. By starting the Right Now Resolution, I hope to encourage others to pursue the things they truly want in life right now and not wait till the opportune time… Because the opportune time doesn't really exist.
Through the Right Now Resolution, I am e-mailing those who sign up short little inspirational e-mails daily to help them stay motivated to reach their goals. And even though this first year is small with only a handful of people on the list, I hope to make this a yearly challenge and see growth in people working towards goals.
I loved your blog question "What is your Why?" When it comes to music, what is yours?
If I had to break down my "why" into one statement it would be that I do what I do to inspire others to dream. The greater purpose behind what I do is that I love to pour into other people the love and encouragement they need to keep going.
I also saw that you faithfully make time for the gym. How do you feel that being healthy affects your music and overall lifestyle as an artist?
Becoming healthy played a bigger role in my decision to pursue a career in music than I think most people will ever understand.
At 19, I was diagnosed with Pre-Diabetes. It completely destroyed my world and fear really started sinking in. I was terrified that my life was going to be ruined because of a condition I was born with. I started taking the medication that they gave me but soon realized that drugs were only going to make me sicker, not better, so I stopped taking them. As ignorant as it may sound, I metaphorically closed my eyes and just wished it away. It wasn't until I was 21 that it came back to bite me in the butt and I was denied for life insurance because of my blood sugar levels.
I then started doing my research and learned that my condition could be completely reversed by diet and exercise. It was amazing! I started seeing genuine results and feeling like my body was healing. That is why health is such a huge part of my life and why it ties so directly into my music career. I believe that God then gave me thought of "if you can do this, then what else can you do? So I started dreaming again, and my dream of becoming a music artist was brought back to life.
I'm a big advocate for "don't die wishing you would have."
Visit Melanie Anne's website at www.melanieannemusic.com.